I'm Back.
We've had some Internet troubles. Our Internet has been going out intermittently. It has been quite annoying. Nothing like spending a half hour constructing an email to your grandmother and then having to save it to drafts because it won't send. Sarah called the cable company and got a recorded message saying that the Internet was out for all of southern Wisconsin. They must have gotten socked with some nasty virus?
Mardi Gras is coming up. So, for those of you that would like to see what is happening on Bourbon Street, I have added some live cams to my 'Other Cams & Such...' section. So far, I've just seen hoards of people walking around with beads on. Well, I guess that's pretty much all that happens at Mardi Gras.
I found all of our MP3s from our old computer on discs. Sarah thought they were wiped out when I reformatted. I think I will put them on the yard cam computer and have them accessible to our other computers.
Sarah has allowed me to listen to 'Shout It Out Loud' - Live by Kiss! I am rocking like I was 11 again!
Me rockin' to Kiss:
As many of you know, it is a world-wide holiday for many. It is Super Bowl Sunday. Pre-game stuff started about an hour ago and will continue until game time. That is a lot of pre-game crapola. The actual game does not begin until 5:30 PM CT.
A little while later...
I just took a 'Which Website Are You?' quiz. Here are my results: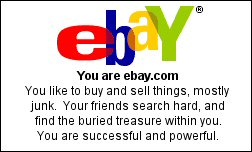 I am not sure about my results. I mean, yes... I am successful, powerful and all. But I really don't buy or sell anything. I am sure that if I did, it probably would be junk.
Take the quiz
, if you'd like. I may take it again.
Hours later...
Kev says Pats by 10. Too close to call. Either way it goes, I feel it'll be a single digit win for someone.